Gerhard Schwaiger and the haute cuisine evening in Adelfas by Jens in Santa Ponça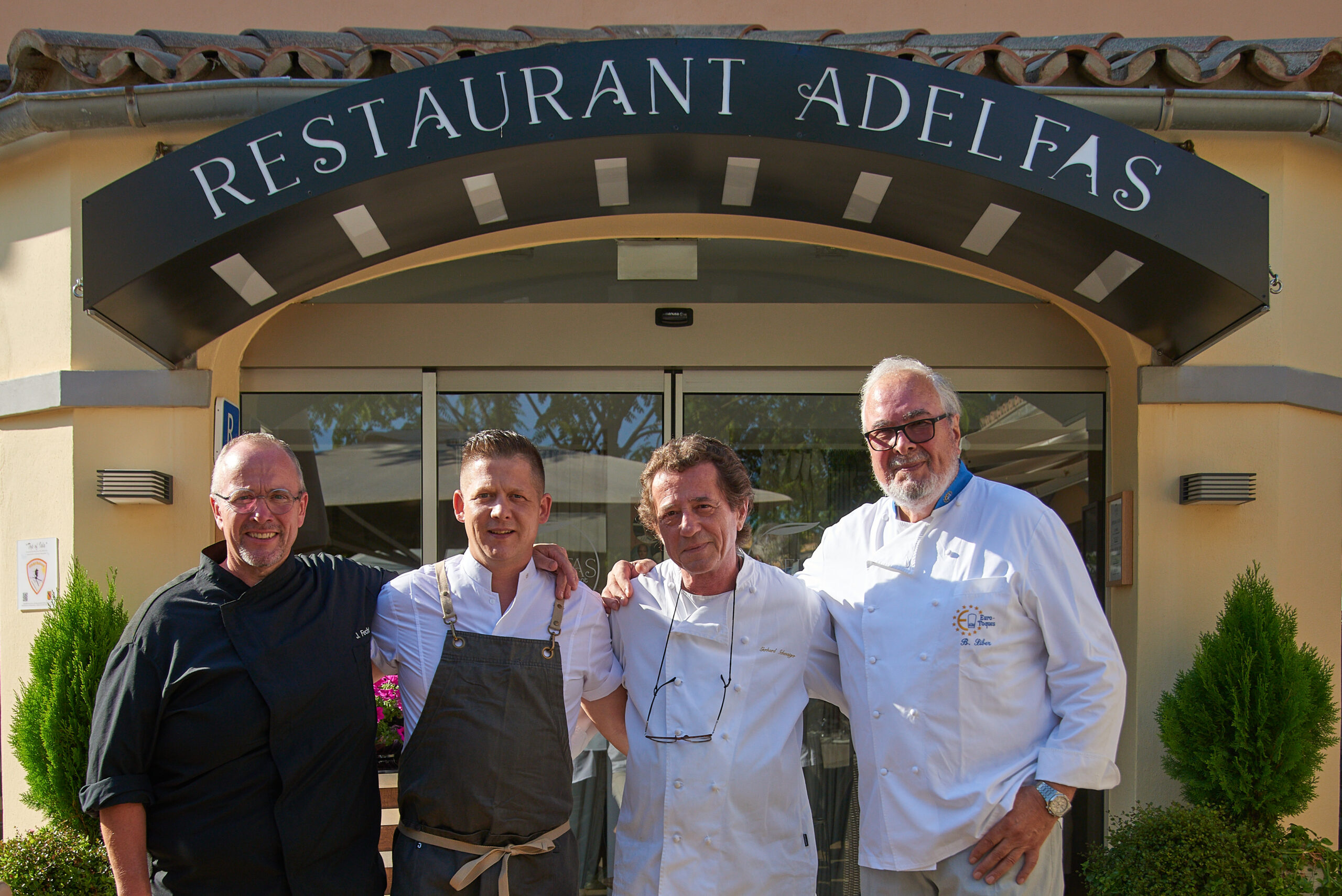 If there is strength in numbers, the culinary evening at Adelfas by Jens in Santa Ponça was much more than that. It became a meeting point for Gerhard Schwaiger and Jens Bräuning after 40 years and they were accompanied by two of the greats of haute cuisine, masters and friends as well, such as Bertold Siber and Gen Jochen Fecht, who accompanied the chef on this evening christened "Generationenkochen" with very special aromas and flavours. In this case, the meeting makes the flavour. 
Approximately 110 guests, some of whom came from Germany especially for this evening, enjoyed a 5-course menu that was not unfamiliar to them, as most of them are already familiar not only with the restaurant, but also with the succulent creations of the chefs. His dishes shone in an evening enlivened by Mallorcan musician Willi Meyer and live performances, such as that of Nina Bräuning, daughter of Jens Bräuning.
Beef tartare with herb mustard ice cream, simple, colourful and very tasty was the host's bet and it couldn't have been more successful. This wonderful starter was followed by Gerhard Schwaiger's Ravioli in light curry butter stuffed with Mallorcan prawns, which delighted the guests, who did not want to finish the dish. 
Known for his French culinary art, Bertold Siber triumphed with a game fish bouillabaisse, fully living up to his reputation. And the buttery veal loin and BBQ terrine of Mallorcan black pork over kohlrabi rice topped with chanterelles and port juice, which Jens does not have on the regular menu and was insisted upon, put the finishing touch, but not the end, to a high-level gastronomic evening that proves that Mallorca is a top gastronomic tourism destination. 
Then came the desserts, the hugs between the four of them and the joining forces with the guests, but this is another story.